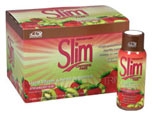 OVERVIEW
Caffeine free for easier stackability with other great AdvoCare products
A portable weight-management aid*
Formulated with Svetol® and Super CitriMax® – ingredients that support weight loss and fat reduction*
Supports appetite management*
Provides support for long-lasting energy*
Helps fight occasional drowsiness*
Works in conjunction with MNS® or as a stand alone product
Quick acting*
Great tasting Strawberry Kiwi flavor*
DETAILS
For anyone looking for an easy-to-use solution for weight loss and weight management, AdvoCare Slim® is the perfect answer.* Combining appetite suppression, energy and metabolic enhancers, this 2 oz. liquid serving not only helps you control your cravings but also promotes fat reduction and an improvement in your body composition.* Altogether, Slim has a synergistic effect, helping you manage your diet and maintain energy while changing your body from within.* It really is a system in a bottle!
Slim combines two proven ingredients, Svetol® and Super Citrimax®.
IS THIS YOU?
Anyone looking for a healthy weight-loss system that's portable and convenient
Individuals who need an extra boost of energy
People who are looking for appetite control
Anyone with an aversion to pills
Someone who wants to add another weight-management tool in conjunction with MNS®
DIRECTIONS
For ages 18 and older.
For maximum effect consume the contents of two bottles daily.
Consume one serving 30-45 minutes before breakfast.
Consume the second serving approximately 2 hours after lunch, preferably mid-afternoon.
KEY INGREDIENTS
Thiamine
Biotin
Chromium
Green coffee extract Svetol (fruit – Coffea canephora robusta P.)
Garcinia cambogia fruit extract, Super CitriMax
Taurine
Inositol
Svetol® is property of Naturex. Super Citrimax® is property of Pharmachem Laboratories.